eBay Wholesale Dropship Solutions
Dropship Wholesale Solutions for Selling on eBay.
Using Dropshippers is a way for you to sell products from your home without carrying any inventory.  Whether you are setting up your own eBay store or selling from your own site, drop ship wholesale distributors make it easier to sell.  The way wholesale drop shippers work is basically this:  you sell the product and then the wholesaler or distributor (also know as the drop shipper) ships the item to your customer for you (this is called drop shipping). You don't ever handle the product or maintain inventory, the drop shipper does it all for you.  It sounds like a perfect solution - you set up the auction, you collect the money and wholesaler drop ships - handling the shipping and stocking of inventory. The problem that most of us have faced is - how to find the wholesale products to sell and how do we find legitimate drop shippers. Drop ship & Wholesale solutions for selling on eBay.
The problem with finding legitimate wholesale dropshippers.  
When I first looked into dropshipping, I Googled the word dropshipping and got tons of hits.  I was excited because there were so many choices, but sadly they couldn't all be trusted.  Let me warn you from my mistakes - all the dropshipping places you find on the web aren't what they appear to be.  There are many, many scams out there and lot of people who want to get in between you and the true distributor to make a profit.  They will advertise themselves as distributors.  Then when you place an order with them, they turn around and place the order with the true distributor.  You end up paying the middleman when you could have gone directly to the distributor yourself.  Real dropshipper solutions for selling on eBay save you time and money.
The Solution to Finding Drop Shippers
I became a member of Worldwide Brands.  Worldwide Brands offers an incredible amount of resources to help you succeed in your business, and they weed out the scammers and middlemen. It is the perfect solution for anyone looking to start and succeed in an online business.   Watch this short video that explains what Worldwide Brands is all about.
Visit Worldwide Brands to see all of the incredible resources they offer for starting your own business online!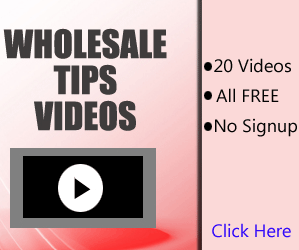 One more thought...
If you'd like to find out more about selling on eBay, visit our Work from Home with eBay page and our page on dropshippers.