I hope you all enjoy these DIY Christmas Crafts for Kids!
1. Popsicle Reindeer Ornament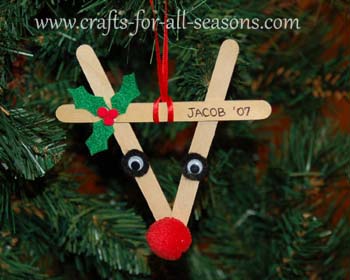 This popsicle reindeer ornament from crafts-for-all-seasons is perfect for young children who want to get in on the Christmas spirit. It's fun, simple, and a cute project for everyone. All you need is 3 popsicle sticks, some googly eyes, and a big ol' red nose.
2. Tree Twig Christmas Tree Ornament
This cute little twig Christmas tree from roadkillrescue.net is a great way to get your kids outside and interested in outdoor type crafts! All you need to do is glue some twigs that are cut to length onto a wooden back end and glue a loop to hang it to the tree.
3. Painted Pine Cone Decorations
This wonderful idea from www.town-n-country-living is a great way to spruce up your home for the holidays. All you need is just some paint of your choice, pine cones and something to dip the pine cone into the paint. And how cute would this be with some colorful glitter sprinkled on it!
4. Popsicle Stick Snowman
This easy popsicle stick snowman craft from thedivinemissmommy  is such a fun and easy craft! All you and your kids need are some Popsicle sticks, glue, and paint. This is an ornament that you'll treasure for years to come!
5. Marshmallow Catapults
Diynetwork has come up with every boy's dream, although on a safer scale. This Marshmallow Catapult is the perfect DIY idea for your kids. (If you don't mind marshmallow wars being started that is!) Diynetwork teaches you how to make it and what you need. And to quote our 11 year old, "That's genius!' He seemed really to enjoy all 5 DIY Christmas Crafts for Kids and we hope you do too!