Sea Décor Ideas: Inspiring ways to use the seashells and sea treasures you've collected
Whenever we travel to the beach, we always collect seashells. I find myself with bags of seashells that get tucked away into never- never land. I was excited by this guest post with some super inspiring sea décor ideas.  Thanks for sharing with us, Jennifer!
From the Shore to the Home: Turning Sea Treasures into Everyday Décor
Those of us who travel to the beach with kids know how much they love searching for shells, which they all want to keep. This is a lovely thought until these shells turn into a pile of broken bits and pieces, or until you step on a broken piece mistakenly left on your child's bedroom floor. Fun times!
All kidding aside, collecting seashells is a wonderful way to bond with your kids and is also a great way to create affordable decorations for your home. To preserve your beach vacation memories, turn these little keepsakes into beautiful, artful, and practical displays in your house with these ideas:
Soap Holder
For a sea-inspired bathroom, let the larger shells in your kids' collection serve as a soap dish or holder. Attach a smaller shell and a larger shell back to back, with the smaller one serving as the stand of your soap dish. I would recommend using shells that are deep and hollow but have a wide rim, such as this example.
Night Light Diffuser
This calls for a really big shell! Shells with a flat surface or sea dollars work best for your night light. Clean your sea shell or sand dollar thoroughly then rinse it well before drying completely. Afterwards, grab your night light clip and coat it with epoxy, then press it onto the flat of the shell. Let dry. You now have an adorable nightlight for your kids' room.
Large and Small Picture Frames
Another practical use for all those sea shells is as an embellishment to your picture frames. You can either glue the shell to the corner of your picture frame or put it inside the frame if it's small enough.
Mirrors Outlined with Sea Shells or Starfish
Outlining your bathroom mirror with numerous ocean treasures is a great use for your starfish and smaller sea shells. You can use either similar sized shells or starfish, or differently sized ones. Just make sure that you have plenty to decorate with.
Filling Glass Vases/Hurricanes with Sand, Shells, and a Candle
This is the perfect centerpiece for your coffee or dining table! Grab a large glass or hurricane vase, fill it with sand about an inch or two inches thick, put the candle inside the vase, and use your starfish, sea shells, and sand dollars as embellishments.
Artfully Displayed on Shelves or Serving as Bookends
If you have large corals, starfish, conches, and sand dollars in your collection, use them as bookends or as bookshelf accents. They add a nice visual break to your shelves while supporting your books.
Filling Mason Jars
A great idea for kids' rooms is to fill up a mason jar with smaller pieces of sea shells and starfish. These sea-inspired mason jars are gorgeous accent pieces for your shelves, desks, and mantelpiece.
Framing the Larger, More Beautiful Shells
Your larger, lovelier shells can stand alone as artwork in your home. Have them framed and displayed on your walls for beautiful sea-inspired art.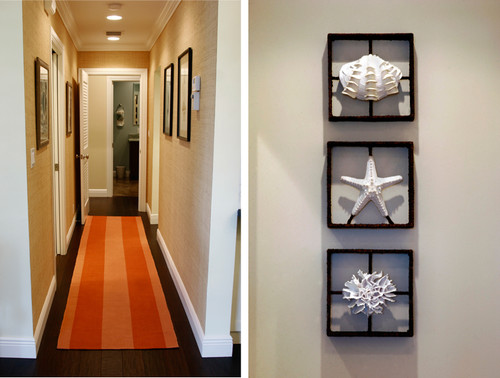 While seashells are a fun, inexpensive way to decorate for the summer, only display a few treasures at a time to avoid going overboard with the nautical theme!
Jennifer Lutz is a home décor and design enthusiast. She writes for Christmas Tree Market (www.christmastreemarket.com). She recently wrote an article about bringing summer indoors and sprucing up the living room.